New Zealand Family Holiday Escapes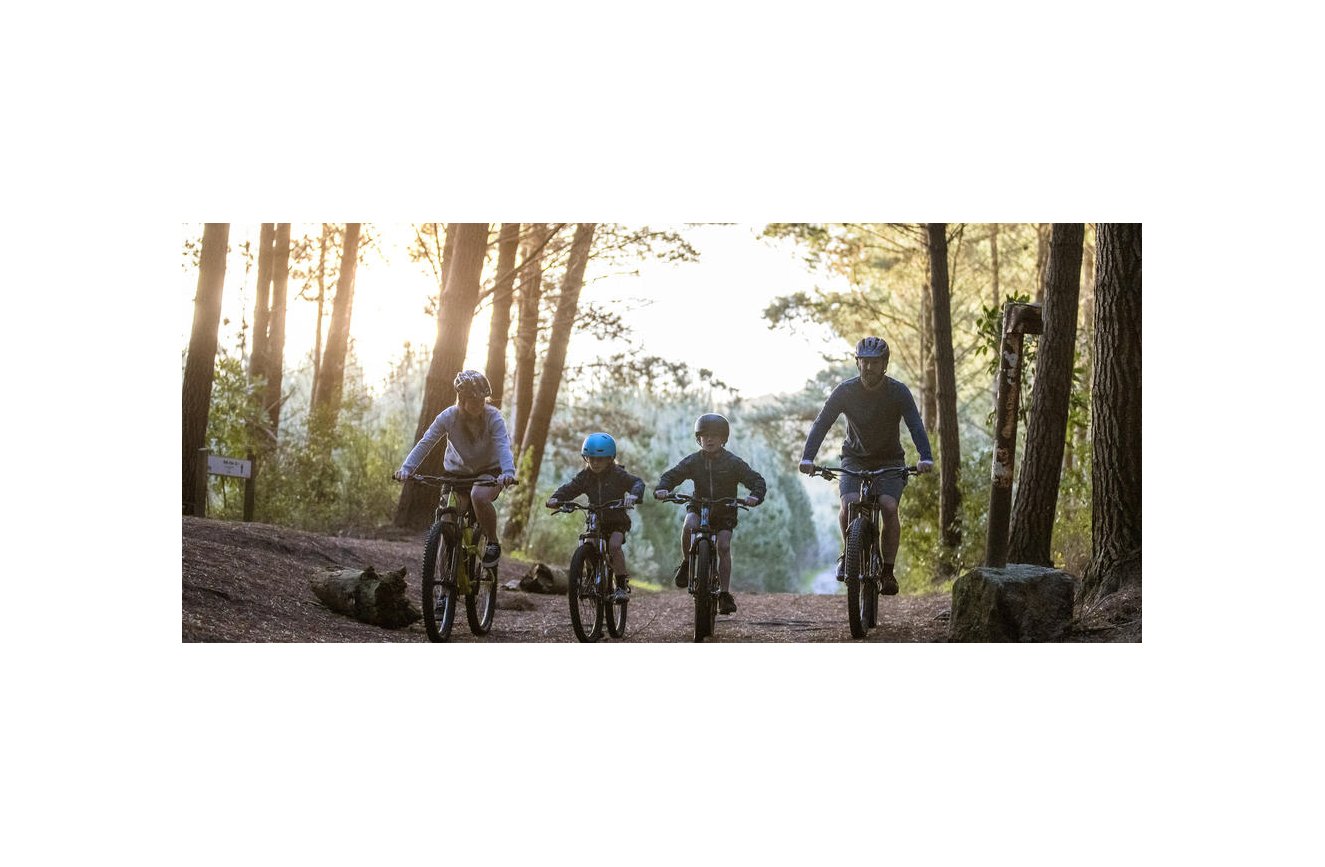 INCLUSIONS:
Accommodation and activity as specified.
ADD ON:
Your best available Air New Zealand domestic airfares.
IMPORTANT INFORMATION:
Land Only - airfares are additional.
Sales From: 14 Jan 2022 To 31 Mar 2022Travel From: 18 Jan 2022 To 30 Sep 2022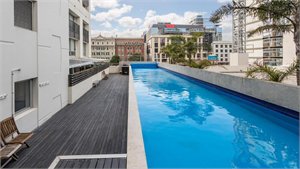 Oaks Auckland Harbour Suites
Description:

One of the tallest apartment tower in New Zealand with harbour and city views in New Zealand! Oaks Auckland Harbour Suites offers Auckland CBD apartment style hotel accommodation with views over Waitemata Harbour and Auckland City. Centrally located on the corner of Fort and Gore Streets, this modern complex contains 38 levels consisting of deluxe queen, one and two bedroom apartments, all with full kitchen and laundry facilities.
Includes:

Full day Te Wao Nui - The Living Realm at Auckland Zoo self guided tour including zoo general admission and see six stunning and immersive wildlife habitats.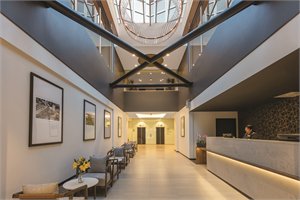 Oaks Wellington Hotel
Description:

Originally built in 1922 as an iconic Ford vehicle assembly plant, Oaks Wellington was repurposed and now stands today transformed into a trendy and modern 9 storey hotel for guests to enjoy in the heart of Wellington's entertainment precinct. Boasting spectacular views, within close proximity to the waterfront, the hotel features a range of convenient amenities.
Includes:

Zealandia By Day - Public Guided Tour- The ultimate way to experience New Zealand's rare and amazing wildlife! Join one of our experienced guides on an engaging and informative walk through the picturesque sanctuary to witness the native wildlife that is once again living on the mainland.
Bonus:

Stay 1 additional night for free for travel to 31 Mar 22.
Notes:

NOTE: Zealandia By Day Tour- Duration: 2 hours. Departure time: 10.00am, 11.00am and 1.00pm Departure point: Zealandia Visitor Centre, 31 Waipu Road Karoro, Wellington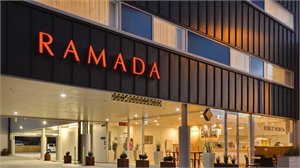 Ramada Suites Christchurch
Description:

Combining history and heritage with cosmopolitan culture, this modern boutique hotel promises an exciting city stay for both the corporate and leisure traveler. Ramada Christchurch is a leisurely five-minute walk from the city centre.
Includes:

General Admission to International Antarctic Centre - Visit 'Antarctica' the snow and ice experience, survive an Antarctic Storm, learn about life in modern day Antarctica and Scott Base, hang out with Little Blue Penguins and enjoy fluffy Husky cuddles! There's also the famously exciting Hagglund Ride and the extreme 4D Cinema featuring Ice Voyage, Happy Feet, and a selection of fun rides!
Notes:

NOTE: International Antarctic Centre is currently open 9am to 4.30pm Fri-Sun only.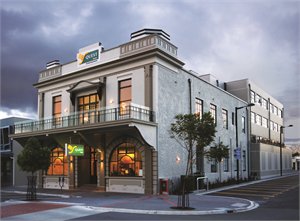 Quest Napier
Description:

Located in the heart of New Zealand's Art Deco capital, Quest Napier is a convenient accommodation choice. Originally built in 1919 by the Ancient Order of Forresters, the building was completely refurbished in 2009. Quest Napier now marries both old and new throughout, offering apartment style accommodation and only a short walk from Napier's major attractions. Located in the town centre and only five minutes walk from the beach, all apartment types offer a value for money accommodation experience.
Includes:

FREE unlimited wifi, gym pass and newspaper upon request. PLUS a 4 Hour Gannet Tour - This unique, fun eco-experience tour involves travel with local experienced guides on vintage tractors and trailers to the largest mainland gannet colony in the world. Departing on the days' low tide, travel along the majestically rugged coastline where photographic opportunities abound.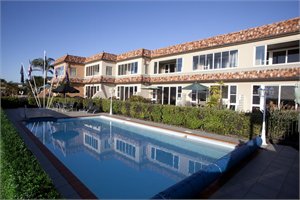 Admiralty Lodge
Description:

Admiralty Lodge has 18 luxuriously appointed beachfront apartments, all with views across beautiful Mercury Bay and Buffalo Beach. See the wonderful sunrise as it comes up over the Bay each morning, and watch in the evening as the moonbeams shimmer off the sparkling waters illuminating the bay, beach and surrounding cliffs. The beach is directly across the road from the Lodge otherwise facilities at the Lodge include a putting green, heated swimming pool plus golf club, mountain bike and fishing rod hire. Come and discover Whitianga and the Coromandel Peninsula in style.
Includes:

The Full Monty tour - Discover 12km of rugged volcanic coastline visiting nearby islands and stunning beaches. From the supreme comfort of a boat, get you up close and personal with the impressive Cathedral Cove where Prince Caspian (Chronicles of Narnia) was filmed. But Cathedral Cove is just the beginning, you'll explore Lonely Bay, Cooks Beach, Shakespeare Cliff and Hahei along the way. Venture across the Te Whanganui-A-Hei Marine Reserve where you'll observe an abundance of marine and bird life.
Wairakei Resort, Taupo
Description:

This Resort offers tranquil accommodation in a stunning thermal valley at the heart of Wairakei Tourist Park. Guests enjoy modern accommodation, exquisite dining options, golf on the nine hole courts, tennis on floodlit courts, two geothermally heated swimming pools and six outdoor hot tubs, all just minutes from Taupo's city centre.
Includes:

Scenic Lake Cruise- See the majestic Maori Rock Carvings in complete comfort on the two storied catamaran. Explore the largest crater Lake in the North Island with a live commentary, whilst enjoying a homemade muffin and hot drink. A great tour with spectacular views of Lake Taupo, the township with suitability for all weathers. Activities on board for children (colouring, drive the boat, treasure hunt) and you may even be able to feed the ducks out of the window!
Notes:

NOTE: Scenic Lake Cruise- Duration: 90 minutes Departure time: 10.30am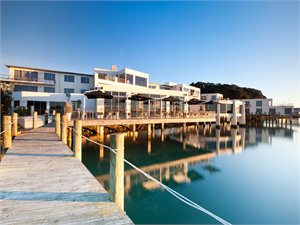 Trinity Wharf Tauranga
Description:

Tauranga's leading hotel located on the water and only minutes from the city centre, with rooms boasting panoramic sea views and a relaxed ambience. Delight in specialty signature creations crafted by the Bay of Plenty's abundant supply of superb ingredients.
Includes:

Access to Tauranga Waimarino Adventure Park - includes all adventure activities in the park including Water Trampoline, Climbing Wall, Italian Pedalos, The Blob, NZ's only Kayak Slide, Tarzan Swing, Gladiator Pole, Diving Boards, Swimming Recreational Kayaks, Canoes Slip n Slide, Warm Thermal Pool, Ropes Coarse and Beach Volleyball.
Regent of Rotorua
Description:

Prepare to be wowed by an eclectic mix of trendy spaces. The Regent of Rotorua marks the epitome of chic, luxury accommodation in the city. Friendly staff offer a warm welcome to all from business travellers to international guests and families. Everything is close to hand, near the dining precinct, key attractions and Lake Rotorua.
Includes:

ZORB Rotorua - H2OGO Straight Track ride. Superman dive into the OGO on your own or have one, two or three friends in there together as you slip, slide and laugh your way down the 250m long slope where you come to a gentle stop. There are two straight OGO tracks side by side. Tour concludes approximately 1 hour after commencement.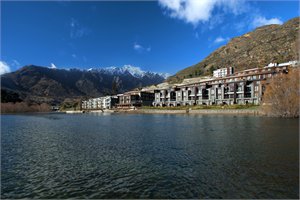 Hilton Queenstown Resort & Spa
Description:

On the shores of Lake Wakatipu, showcasing panoramic views over a world-famous landscape. This is an exhilarating setting just 15 minutes from town with a complimentary shuttle available. Spacious, air-conditioned guestrooms with contemporary alpine design.
Includes:

TSS Earnslaw- a 50.84 metre coal-fired vintage steamship originally built in 1912. Following the 40 minute outward voyage from Queenstown across Lake Wakatipu, disembark at Walter Peak High Country Farm for a BBQ lunch. The BBQ is cooked on the terrace in front of the Colonel's Homestead overlooking Lake Wakatipu and is then served on the terrace or inside the Homestead. Before or after the BBQ, you can wander amongst the farm animals (sheep, red deer, alpacas, Scottish Highland cattle) and join in the farmyard walking tour, which includes dog handling and sheep shearing demonstrations. Afterwards, re-board the TSS Earnslaw for a return cruise to Queenstown.
Notes:

NOTE: TSS Earnslaw- Duration: 3 hours and 45 minutes. Departure time: 10:00am, 12:00pm
PACKAGE TERMS & CONDITIONS: It is our policy to present the cost of our holidays inclusive of all airport and government charges. Please accept however that these charges are not within our control, therefore we reserve the right to pass on any increase. Travel agent professional service fees where charged, will be additional to the advertised prices. Closeout and blackout periods apply over school holidays and peak holiday periods & availability of seats & rooms is likely to be very limited over this time . Family pricing is based on a per person cost for 2 adults and 2 children (2-11) sharing one room and using existing bedding. Extra night rates are per person.. Valid for sales to 31 Mar 2022. Valid for travel commenced and completed within the period 14 Jan 2022 to 30 Sep 2022 (unless otherwise specified).Land Only - airfares are additional. Please add on your best available Air New Zealand domestic airfares. Prices shown are based on per person costs in New Zealand Dollars, for payment by cash, cheque or eftpos only. Credit card sales not permitted unless Travel Agent acts as a merchant. Travel requiring an overnight stay in New Zealand will be at passengers own expense. Events beyond our control such as currency fluctuations and changes to the price of aviation fuel may result in prices variations . Strict cancellation fees apply. Packages are based on consecutive nights. For split stays please contact your travel consultant. For full terms and conditions and cancellation fees please contact your local travel agent for more information. Trade enquiries via GO Holidays.